Kuchinoshima-Ushi (Bos taurus) Genome
This is a version of the UCSC Genome Browser that is customized and maintained by the NODAI Genome Research Center (NGRC), Tokyo University of Agriculture. It contains many tracks from the UCSC Genome Browser, and others are tracks produced and compiled here at NGRC.
To open the Genome Browser window, specify the genome location you would like the Genome Browser to open to. To select a location, enter a valid position query in the position or search term text box at the top of the Gateway page or accept the default position already displayed. After specifying the genome location, click the submit button to open up the Genome Browser window to the requested location. For more information, please see the UCSC Genome Browser User guide .
In the Genome Browser window, differences in the genome sequence of Kuchinoshima-Ushi from the reference sequence (bosTau4; released Oct, 2007) are available in the SNP track; SNPs are shown in purple, insertions in red, and deletions in green. SNP density per 1 kb region is shown in the Density track. Mapped sequence reads can be viewed in the Coverage track.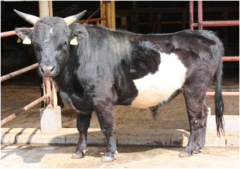 Kuchinoshima-Ushi
Photo courtesy of Sen-ichi Oda, Nagoya Univ.

A new version of the Genome Browser which provides differences in the genome sequence of Kuchinoshima-Ushi from the reference sequence (bosTau6/UMD_3.1; released Nov, 2009) is available here.
Genome Browser (bosTau6/UMD_3.1)
Kuchinoshima-Ushi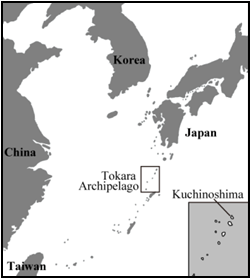 The Japanese native cattle Kuchinoshima-Ushi has long been bred on Kuchinoshima Island in the Tokara Archipelago of Kagoshima Prefecture, Japan. Kuchinoshima-Ushi is characterized as lean with a small body size (300-400 kg), wide breast, and narrow waist. The similarity between the characteristics of ancient Japanese cattle described in historical records and those of Kuchinoshima-Ushi suggests that they have retained some features of ancient native cattle.
One male Kuchinoshima-Ushi from a stock farm at Shitara Field, Nagoya University was used for this project. In 1990, one male and three female Kuchinoshima-Ushi were captured on Kuchinoshima Island and transferred to the stock farm at Shitara Field, Nagoya University. In 1993, two males and three females were brought to the field from the Nagoya Animal Science Foundation. By 2004, the group had increased to 23 males and 22 females with inbred conditions in a closed colony.
Publication
Ryouka Kawahara-Miki, Kaoru Tsuda, Yuh Shiwa, Yuko Arai-Kichise, Takashi Matsumoto, Yu Kanesaki, Sen-ichi Oda, Shizufumi Ebihara, Shunsuke Yajima, Hirofumi Yoshikawa, Tomohiro Kono. Whole-genome resequencing shows numerous genes with nonsynonymous SNPs in the Japanese native cattle Kuchinoshima-Ushi. BMC Genomics 12,103 (2011); [PubMed] [BMC Genomics]
Cite us
Please contact us (nodaigc[at mark]nodai.ac.jp) when you use any information in this site. If you use any data in this site in your recent work that will be published in a journal or on the website, please cite our publications. In addition to the relevant paper, please include a reference to our website in your manuscript [http://www.nodai-genome.org/bos_taurus_en.html].
Contact information
E-mail : nodaigc [at mark] nodai.ac.jp